Published on November 12th, 2019 | by Phil
Roxy Music's Andy Mackay and Phil Manzanera release 'Roxymphony'
Roxy Music's Andy Mackay and Phil Manzanera release 'Roxymphony': a CD/DVD ofClassic Roxy songs reimagined with orchestra and choir.
'Mackay and guitarist Phil Manzanera bookend the stage as the ensemble do a magnificent job reimagining the likes of Song for Europe and Out of the Blue. The added musical dimensions help to accentuate the eerie and haunting qualities so often overlooked in Roxy material: this is especially true of In Every Dream Home a Heartache,which is mesmerising.'


Prog Magazine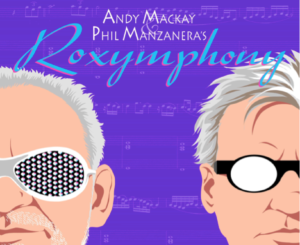 On 6 December Roxy Music's Andy Mackay and Phil Manzanera release 'Roxymphony', a CD and DVD of their critically acclaimed Queen Elizabeth Hall concert, where they performed classic Roxy Music songs reimagined for orchestra and choir. At this London concert in November 2018, Mackay and Manzanera were accompanied by a 20-piece orchestra and the Owl Parliament choir, performing reimagining's of ground breaking, era-defining Roxy Music tracks such as Love Is The Drug, Song For Europe, Sentimental Fool, More Than This, In Every Dream Home, Out of The Blue and more.

Roxy Music reunited in the US on March 29th, 2019 to be inducted into the Rock & Roll Hall of Fame alongside Radiohead and The Cure.

Andy Mackay said: "Roxymphony was an idea that came from the fabulous possibilities of using orchestral strings and other instruments. I had already written the string parts for 3Psalms and it was incredibly exciting for me to assemble all the musicians for the premiere last year and to perform with Phil. Roxymphony was the natural partner and was so well received we felt we release the recording and visuals.

Phil Manzanera said: "It was great to be back on stage with Andy Mackay presenting Roxy's music in a new context. It was a revelation to us all how well-suited the songs were to being orchestrated and how much the audience at the QEH seemed to enjoy it.

Available to purchase from: